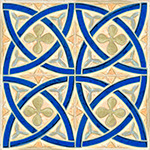 News and events archive
---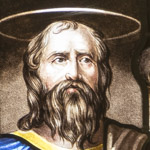 Lectures for November
I have recently given lectures on stained glass in Shrewsbury and in Bangor. The lecture on 17 November at Shrewsbury Museum and Art Gallery introduced David Evans and the early Gothic Revival in the first half of the nineteenth century. This was part of the accompanying programme of events organised by the Friends of the Museum and Art Gallery to coincide with the Margaret Rope exhibition. David Evans was also relevant to the talk in Bangor for the North West Wales Art Fund at Storiel, Bangor, on the 22 November 2016. He made the figures for the east window of Bangor Cathedral in 1840 and 1843 (see my blog post about this commission), and the talk provided an introduction to the stained glass in the churches of Bangor, including those recently closed.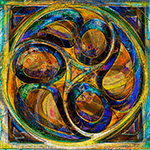 Two Exhibitions
Curious Travellers: Movement, Landscape, Art
Oriel Sycharth, Wrexham: 10 October – 16 December 2016
Resurgence: Diverse Manners Arts Group
Riverfront Art Gallery: 3 – 29 October 2016
This autumn I have participated in two group exhibitions, which opened in October. Both shows include new work based on the rood screen at the Church of All Saints, Gresford. I also spoke about the church at an event at Oriel Sycharth, with the poet Philip Gross, on 22 October, organised as part of the Curious Travellers project. The project is researching Romantic-period accounts of journeys into Wales, and I have also been contributing occasional posts for the Curious Travellers website.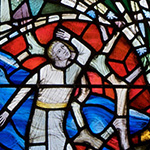 Society for Glass Technology Conference
Sheffield
8 September 2016
I participated in this year's History and Heritage section of the SGT Centenerary conference.
The paper considered the ways in which some of the most influential modernist stained glass artists have been influenced by medieval stained glass and sculpture. The medievalism of Victorian Gothic Revival stained glass has been well appreciated, but a continuing fascination with stained glass of an earlier medieval period by artists such as John Piper, Lawrence Lee and Wilhelmina Geddes has created competing medievalisms that have coloured our appreciation of much nineteenth- and early twentieth-century stained glass.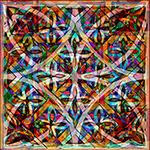 Scene/Unseen Exhibition
Allotment Gallery, Greenbelt Festival
29 August 2016
I brought a small selection of work to the festival for a temporary show, which included images based on the panels from the screen at Llananno as well as photographs of stained glass windows from churches in Wales.