Photography and design for books, leaflets and interpretative material.
Links for research concerning stained glass in churches in Wales.
A four-year research project editing medieval Welsh texts about saints in Wales.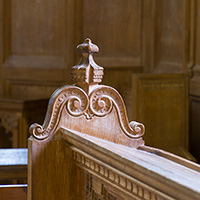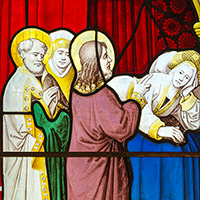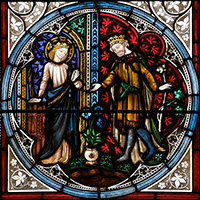 News and events
I will be at the Church of St Peter, Lampeter, for their 'Open Doors' open day on Saturday 16 September, and will give a short talk about the stained glass windows. I have also been invited to give the Annual Lampeter Society Lecture on 16 October, where I will speak in more detail about the stained glass of the church and similar work nearby and further afield.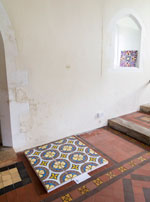 Art on the Faith Trail
Pembrokeshire, June–July 2017
I recently participated in the 'Art on the Faith Trail' initiative in June and July. Artists exhibited their work in a number of churches in northern Pembrokeshire, as well as at St Davids Cathedral. Examples of my work were shown at Llanwnda, Llanychaer and Pontfaen, churches that are all within a few miles of Fishguard, and three pieces were included in the display at St Davids Cathedral.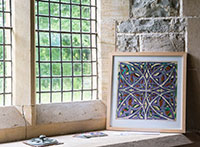 All of the work was based on various examples of medieval decorative arts found in churches across Wales, so the opportunity to show some of the pieces in church settings seemed particularly appropriate. I was also pleased to hear that in some cases services had made liturgical use of some of the pieces.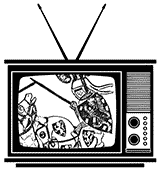 The Middle Ages in the Modern World Conference
University of Manchester 28 June – 1 July 2017
I was invited to join a panel on medievalism in Wales at 'The Middle Ages in the Modern World' Conference, Manchester, presenting my research on medievalism and Celticism in the visual arts of Wales during the twentieth century.
In addition to my talk I also exhibited some of my prints based on the medieval tiles at Strata Florida and the rood screen at Llananno. I was also asked if I could help out with providing an image for the conference bag, and came up with the image shown here. The image tried to echo the many papers analysing the representation of the Middle Ages, in its many guises, in contemporary film, television and games.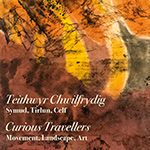 On the Move: Curious Travellers come to Oriel Brondanw and Old College Aberystwyth
Last autumn I took part in an innovative group exhibition at Oriel Sycharth, Wrexham, in which thirteen artists responded to Thomas Pennant's Tours in Wales. The exhibition was organised as a contribution to the 'Curious Travellers' research project by my colleagues at the Centre for Advanced Welsh and Celtic Studies, Mary-Ann Constantine and Elizabeth Edwards. My work for the exhibition was based on the rood screen and architectural sculpture at the Church of All Saints, Gresford, a church that Thomas Pennant visited and wrote about.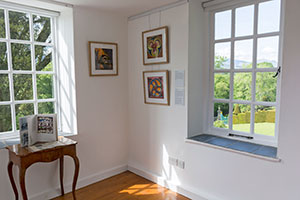 The show was installed at the magical location of Oriel Brondanw, near Llanfrothen, and ran until 25 June. The architecture, gardens and views at Brondanw are exquisite and provided a fine setting for the work. It then moved to Old College, Aberystwyth, in July, but was in an abridged form, in a smaller space.
Four of the exhibiting artists gave short talks about their work on Tuesday 25 July, at Old College, in which I participated.
For those unable to visit the exhibition, and for those who wish to remember it, a book of the exhibition is now available. I designed the book and provided much of the photography, which includes a double-page spread for each of the artists, an introduction, and poems by Ifor ap Glyn and Philip Gross. The book is available from the Centre for Advanced Welsh and Celtic Studies, or contact me for copies (priced £5).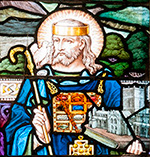 Saints and Stained Glass: talks in spring 2017
I gave a number of different kinds of talks and presentations during the second quarter of 2017.
On 1 April, I contributed to an afternoon of talks at the Church of St Padarn, Llanbadarn Fawr: 'Padarn and the Saints of Wales'. During the preceding week, my colleague David Parsons and I gave gallery talks for the 'Stories of the Saints' exhibition at the National Library of Wales on 29 March. I was also interviewed about the exhibition for 'Sunday Matters', which was broadcast across Radio Pembrokeshire, Radio Carmarthenshire and Radio Ceredigion on Sunday 26 March.
I helped to lead visits for the Stained Glass Museum Study Weekend to a number of churches in north-east Wales (21–23 April), together with Jasmine Allen, curator of the Stained Glass Museum, and Penny Hebgin-Barnes, an expert on medieval stained glass. The weekend brought me back to many churches that I had visited before, but also introduced me to some new places in Cheshire, in particular the private chapels at Cholmondeley Castle and Eaton Hall.
In May I was invited to speak about medievalism in nineteenth-century stained glass at the 'Reframing Stained Glass' conference in Cambridge, organised by Gareth Atkins of the 'Bible and Antiquity Project', Centre for Research in the Arts, Social Sciences and Humanities (CRASSH).
I returned to a mix of saints and stained glass for two talks at the National Library of Wales. I gave a lunchtime lecture about the imagery of saints in churches in Wales on 17 May and on 3 June I was among the speakers at a one-day conference 'Stories of the Saints'.
Recent news and events
Recent talks