Images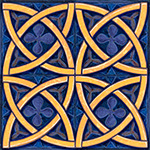 Contemporary images based on medieval patterns
Exhibitions
---
My work has been exhibited in a variety of spaces, and I am interested in exhibiting in both conventional galleries and other kinds of spaces, including places of worship, in group shows as well as solo shows. I like to support these exhibitions with gallery talks and lectures in order to enhance the appreciation of the subject matter on which the work is based.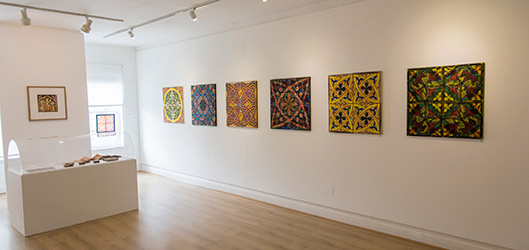 In addition to the many exhibitions of my work, I also have experience of curating exhibitions. The above show, at Oriel Q in Narberth, also included medieval artefacts relevant to the series of prints displayed.
The following list is not quite exhaustive, but includes all of my main exhibitions since 1996.
Curious Travellers: Movement, Landscape, Art
10 October – 16 December 2016
Group Exhibition, Oriel Sycharth, Wrexham
Resurgence
3–29 October 2016
Diverse Manners Group Exhibition, Newport Riverfront Arts Centre
Beneath the Surface
8–24 April 2015
Diverse Manners Group Exhibition, Newport Riverfront Arts Centre
Medieval Patterns
13 October 2014 – 9 March 2015
Solo show, Canolfan Rhiannon, Tregaron
Patterns, Monsters and Mysteries
2 August – 6 September 2014
Solo show, Oriel Q, Queen's Hall, Narberth
Teiliau Ystrad Fflur / Strata Florida Tiles
28 February – 10 March 2014
Solo show, Cloister Gallery, St Davids Cathedral
fforma
November – December 2011
fforma Group Exhibition, Morlan, Aberystwyth
fforma
July – September 2010
fforma Group Exhibition, Morlan, Aberystwyth
Journey – Taith
January – April 2010
Diverse Manners Group Exhibition, Theatr Brycheiniog, Brecon
fforma
November 2009 – January 2010
fforma Group Exhibition, Corris Institute
Imaging the Bible
April – May 2008
Group exhibition, School of Art Galleries, Aberystwyth
(also co-curated the exhibition)
Muddy Magnificence
December 2007 – January 2008
Diverse Manners Group Exhibition, Newport Riverfront Arts Centre
A Love Supreme
August 2005
Diverse Manners Group Exhibition, Brecon Cathedral
Invocation V
September – October 2003
Three person show, Bronglais Hospital, Aberystwyth
Sticks & Stones
June – July 2003
Two person show, Toko, Aberystwyth
Gwynllyw
October 2002
Diverse Manners Group exhibition, St Woolos Cathedral, Newport
Wales Drawing Biennale
September 2002 – January 2003
Wrexham Arts Centre, Theatre Clwyd Mold and Aberystywyth Arts Centre
Diverse Manners Group Exhibition
May – July 2001
Newport Museum and Art Gallery
Saint Gwynllyw: Two Tales of a King
August 2000
Solo exhibition, Celtica, Machynlleth
Inner Symbols, Outer Signs
May – June 2000
Group exhibition, Brewhouse Gallery, Grantham
Reach Into Silence
October 1999
Arts Centre Group exhibition, The Courtyard, Portobello Road, London
Arcade II
January 1997–1998
Exhibition of Digital Prints, touring various venues in Britain and Siberia
Canon Digital Print Award
November – December 1996
Exhibition at the Croydon Clocktower Museum & Galleries
NorthWales/NorthWest Young Professionals
May 1996–1997
Group exhibition touring various venues in Spain 1996, North West England and Wales 1997
Branwen Daughter of Llŷr
March 1996
Concluding installation of the Arts Council of Wales Residency at the Alun School, Mold.