Photography and design for books, leaflets and interpretative material.
Links for research concerning stained glass in churches in Wales.
Two major research projects editing medieval Welsh and Latin texts about saints in Wales.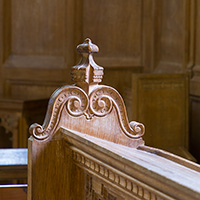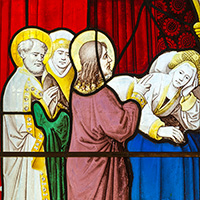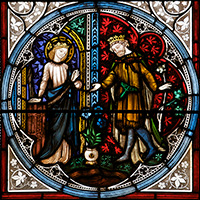 News and events
Funding for the 'Vitae Sanctorum Cambriae' project ended in December 2019, although a new project, also funded by the AHRC, beginning in January 2021, will produce a new resource on saints in Wales during this year, which will publish information on the imagery of saints in the medieval and modern periods alongside geographical distributions of saints' cults in Wales. I am also engaged part-time on the Ports, Past and Present project, funded by the EU through the Interreg programme, focusing on the Irish Sea ports.
In the autumn of 2020 I wrote a detailed illustrated statement of significance for the church at Swalcliffe in Oxfordshire, setting out the history and national context for a series of windows by Ward & Nixon/Ward & Hughes. As the year drew to a close I also supplied images for use in several television programmes, for S4C and the BBC, and the cover of a new book on Systematic Theology.
Two articles on nineteenth-century stained glass were published in summer 2020, one in the online journal 19: Interdisciplinary Studies in the Long Nineteenth Century, 'Reframing Stained Glass in the Nineteenth-Century British World: Culture, Aesthetics, Contexts', and another for Vidimus on the work of Charles Eamer Kempe. Work on new publications on the imagery of saints in Wales will be completed during 2021.
Online Lecture for the Stained Glass Museum
Welsh Saints in Stained Glass 3 March 2021 7pm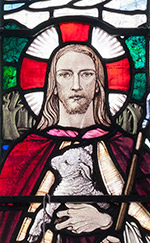 New work consolidating windows catalogued on Stained Glass in Wales
Over the course of 2020 I have been revisiting and updating hundreds of records on the database shared by the Stained Glass in Wales and Imaging the Bible in Wales websites with the help of funding provided by the Glaziers Trust.
This has included improving the dating of windows already online, and attributing a further 100 windows, using archival information as well as evidence presented in recent publications. I have also used information from these sources to update notes on over 80 artists and studios, and listed 120 new articles and books in the bibliography, adding hundreds of references from these publications to artists, studios and windows on the site. With so much of this work completed, it will be easier to keep the database updated with information from new publications where possible.
Further windows have been added to the site, including important collections of stained glass at Leighton (big windows of the 1850s by Forrest & Bromley), Ely (Cardiff, windows by Francis Spear and Veronica Whall), Betws (near Ammanford, a fine set of modern windows with Lawrence Lee's wonderful east window), Pontyberem (more modern windows including work by John Petts and Gareth Morgan) and over 300 new images have been added, such as numerous details from St Mary's Abergavenny, and the addition of Helen Whittaker's recent Tree of Jesse at the church. Much remains to be done, and more information can be found on the Stained Glass from Welsh Churches blog.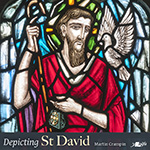 Two books for Spring 2020
My first book published by Y Lolfa since Stained Glass from Welsh Churches was published in February, and was launched at a small event at Cardiff Cathedral on 16 March. The book, Depicting St David, is a study of the imagery of Wales' patron saint, and shows different ways in which the saint has been depicted, both as a standing figure alone or with others, and in scenes depicting stories associated with the saint. I have written more about the book and a few of the discoveries made along the way on my blog. For copies visit Y Lolfa website.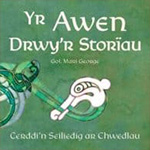 A very different book published by Barddas in March featured my illustrations in a book of Welsh poetry. The book, edited by Mari George and elegantly designed by Tanwen Haf, includes poems and prose texts inspired by medieval Welsh narratives. The modern poetry, based on these old traditions, is mirrored by my own work, which adopts forms found in eleventh-century manuscript illumination, layered with later medieval patterns. Llawer o ddiolch i Alaw Mai Edwards, a former colleague on the 'Cult of Saints in Wales' project, for her intiative in bringing this project to fruition.
The book is available from gwales.com, where a list of the poems can be found.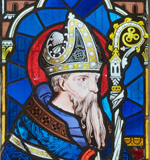 2019 Conferences
2019 proved to be a busy year for conferences, and in most cases I gave talks relevant to recent work on the imagery of saints in Wales.
The first was in May for the ''King Arthur of Wales?' conference in Carmarthen, followed by three in July. The 'Vitae Sanctorum Cambriae' project organised three sessions at the International Medieval Congress, Leeds, and several members of the project team, past and present, gave papers at the sixteenth International Congress of Celtic Studies (a quadrennial event, held at Bangor in 2019), at the end of the month. In between, I gave a paper on saints in stained glass commissioned for Catholic churches in nineteenth-century Wales at the 'Catholicism, Literature, and the Arts' conference in Durham.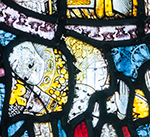 A conference in Cambridge organised by the 'Vitae Sanctorum Cambriae' project came at the end of September, at which I gave a paper on medieval images of saints in Wales, and also a short paper on some recent discoveries of images of Welsh saints found at churches in England. My final conference paper of the year, for the 'Art of the Lost' conference at Canterbury Cathedral in November, was on a different subject: the preservation of medieval fragments in the creation of abstract windows, and of the adoption of a similar aesthetic in new windows.
Recent news and events
Recent talks