Images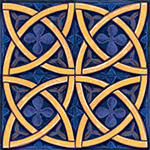 Contemporary images based on medieval patterns
Art and Medieval Visual Culture
---
I have exhibited widely since the late 1990s, including group and solo exhibitions in galleries, churches and cathedrals. During this time I have consistently engaged with historical visual culture, basing my work on ancient and medieval patterns.
Over the last twenty years this work has focused on new interpretations of medieval decorative art surviving in medieval churches in Wales. Digital imaging provides me with a convenient and surprising way of making images from a variety of sources and processes, as well as the opportunity to present the results of these interactions in a variety of formats.
Drawing, painting, photography, rubbings and scanned sources can be transformed, layered and juxtaposed, and then exhibited in different ways: projected as still or animated images, or reproduced as limited-edition giclée prints on paper and on canvas.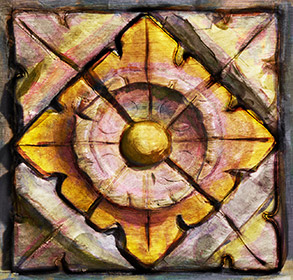 This visual work is constantly informed by my research into ecclesiastical visual art, with which I have been engaged at the Centre for Advanced Welsh and Celtic Studies since about 2002. It was also the subject of my recent PhD study at the Centre (2011–15).
Since about 2005, most of my work has been based on patterns and designs found on medieval rood screens and tiled pavements, from sites including St Davids Cathedral, the former Cistercian abbey at Strata Florida, and parish churches at Llananno and Gresford. These works take the forms and patterns of medieval examples and combine and colour them in new ways for a contemporary audience, occupying a creative space between interpretation and invention, between tradition and innovation.
To buy prints of images on these pages please contact me at enquiries@martincrampin.co.uk. All images are supplied by Fine Art printers using long-life inks with an impressive colour range on heavy archival papers.
I am open to commissions, from variations on existing work and the provision of images for reproduction to sets of new images and residency work. Opportunities to engage creatively with historic buildings are always welcome, whether as exhibition opportunities or for the creation of new work.