Esgyrn Cybi
These images were made as a contribution to the Creative Connections exhibitions for the Ports, Past and Present project in 2022. The project was concerned with the cultural connections between Ireland and Wales and the long history of crossings of the Irish Sea.
Connections between Ireland and Wales first surfaced in my work back in 1996 when making an animated version of the Welsh medieval tale 'Branwen Daughter of Llŷr', which was screened as part of a large installation of projections when I was artist in residence at the Alun School in Mold. Several journeys across the sea take place in the story, and medieval tales of a similar date (eleventh-twelfth century) relate journeys of the saints across the Irish Sea, which also include magical or miraculous motifs.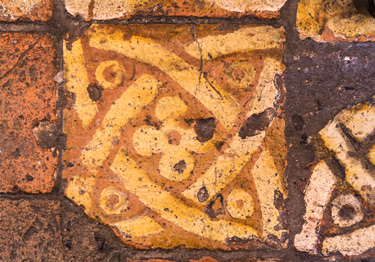 Esgyrn Cybi (The Bones of St Cybi) refers to the journeys of St Cybi across the Irish Sea. According to the Life of St Cybi, he travelled from Ireland to Wales in a boat that was not watertight and was broken apart in a storm, nonetheless Cybi and his companions arrived safely on Anglesey, presumably on Holy Island at the place now known as Caergybi, or Holyhead.
At some stage during the Middle Ages a significant monastic site was established within the bounds of the Roman fort by the sea, and the church was dedicated to Cybi. However, the shrine of Cybi was stolen away to Dublin in the early fifteenth century and was kept at the Augustinian priory dedicated to the Holy Trinity, now known as Christ Church Cathedral, until it was destroyed in the sixteenth century.
The images incorporate surviving decorative features from both St Cybi's in Holyhead and Christ Church, united on either side of the sea as the resting place of Cybi's relics. Few medieval features remain visible after G.E. Street's restoration of the cathedral in the 1870s, while extensive late medieval stone carving can be seen on the south side of St Cybi's. Patterns from this stone carving were layered with some of the medieval tiles that survive at Christ Church, to create these images for Esgyrn Cybi.
For more of St Cybi and further stories of the travels of the saints across the Irish Sea, see the 'Saints and Stained Glass Across the Sea' tour on the Ports, Past and Present website.
To order prints of these images please contact me at enquiries@martincrampin.co.uk